It's been a while since we've done this, but as 2018 dawns on us, we wanted to take a look back at 2017 as a year of entertainment. Brian and Nina each chose one TV show, movie, and album of the year, with plenty of honorable mentions – read on for their picks.
FILM
Call Me By Your Name
Brian: This sumptuous, sexy, heart wrenching, exquisite gem of a film slipped right in at the nick of time to become my favorite movie of 2017. I watched it on New Year's Eve, and, since then, the only thing that has kept me on the ground after its luminous visuals swept me off my feet is the tremendous weight of its emotional impact. The excruciatingly and gloriously slow burn romance between 17-year old Elio and 23-year old Oliver will transport you to whatever the opposite of the "sunken place" is. That's because everyone involved is at the very tip top of their game. The names of director Luca Guadagnino and lead actor Timothée Chalamet may have been completely new to me before I watched the movie (and still incredibly hard to spell correctly), but their unforgettable work here will ensure that I'll never miss anything either of them ever do going forward. And when it comes to Armie Hammer, what's better than seeing TWO of him yell at Jesse Eisenberg in The Social Network? Seeing him giving the best and most vulnerable performance of his career while wearing the shortest shorts of anyone's career. All three talents have expressed interest in spinning off this story into a franchise a la Richard Linklater's Before… trilogy. If that does ever materialize, it would be another amazing step forward for LGBTQ stories in film following all the trails blazed by Moonlight last year.
Get Out
Nina: Who knew a cup of tea could be so sinister? I've always been a fan of Jordan Peele's work, especially his sketch comedy, and it's both shocking and totally unsurprising that someone who could write a sketch like "Auction Block" could also come up with the best social satire since Jane Austen. The performances are superb – Daniel Kaluuya is perfect as Chris, who could absolutely story-top Greg Focker when it comes to meeting the parents; Catherine Keener and Bradley Whitford are excellent as usual; and if you still think Allison Williams can't act, you haven't seen this movie – the script is original and nearly flawless, and the cinematography and direction will take your breath away. It's also a rare film that seriously benefits from rewatching it – on my third viewing, I was finding new easter eggs all over again. It's hard to believe that this is Peele's debut film. He has said, in interviews since Get Out's release, that he wants to continue focusing on horror-thrillers with a strong backbone of social commentary. Please, sir, can I have some more?
Honorable Mentions: Lady Bird, The Big Sick, Star Wars: The Last Jedi, Baby Driver, The Disaster Artist, Wonder Woman, I, Tonya
MUSIC
War Paint, Original Broadway Cast Recording
Brian: I was totally prepared to name a more mainstream album as my favorite of the year. I was hopelessly torn between a trio of releases that have been near the top of most critics' lists. Those would be Kendrick Lamar's DAMN, SZA's Ctrl, and Jay-Z's 4:44. BUT you and I have Spotify to thank for showing me the light. Besides Beyoncé and the various movie/TV scores that I put on when I write, showtunes were about 70% of my most played tracks of the year (duh). And, by far, my favorite new musical of the season was the criminally overlooked War Paint. The show, about the epic feud (lowercase f, sorry Ryan Murphy) between cosmetic moguls and business pioneers Elizabeth Arden and Helena Rubenstein, reunites the writing team behind one of my all-time favorite musicals Grey Gardens. Composer Scott Frankel and lyricist Michael Korie somehow managed to give their two two-time Tony-winning stars Patti LuPone (Rubenstein) and Christine Ebersole (Arden) equal amounts of equally impressive material that exists as both convincing 1940s pastiche and timeless musical theatre tunes. While the show failed to win any Tony's at last year's ceremony, the production made a huge impression with a seismic performance of the show's act one-closing duet "Face to Face" (Get it? The show's about makeup!), where Patti and Christine square off and attempt to belt circles around each other. Sadly for them, the only winners are us, the listeners.
Lorde, Melodrama
Nina: To be fair, I've been a fan of ol' Crab Claws since her debut, but a sophomore album is a tricky feat. To build upon an existing body of work while still producing something new and exciting isn't something every artist can pull off, and yet, Lorde did. Working with Jack Antonoff to create a brand new, bigger, and more mature album with sound that felt like the natural continuation of both Pure Heroine and The Love Club, Lorde found new depth in the "breakup album" trope by giving her audience a cohesive and beautifully structured album that soars and falls exactly when it should. Though the entire concept is ultimately loose – listening to it feels almost like free-falling – it comes together perfectly, from the opening, booming "Green Light" (described by one famous hit-maker as "incorrectly written") to the mournful "Liability" to her standout single and closer "Perfect Places." Lorde is growing up, and is letting us come along for the ride.
Honorable Mentions: Jay-Z, 4:44; Kendrick Lamar, DAMN., SZA, CTRL; St. Vincent, Masseducation; Kesha, Rainbow
TELEVISION
Riverdale
Brian: What more do I need to say? Still not convinced? Fine! Luckily, Riverdale does have much more to offer than the blinding beauty of Australian sex god KJ Apa. In 2017, Riverdale proved (with a huge assist from Netflix) what Crazy Ex-Girlfriend and Jane the Virgin have been telling us for years now. The CW is SO LEGIT (convoluted superhero spinoff series notwithstanding). Just like Bert V. Royal's stage play Dog Sees God did for the Peanuts, Roberto Aguirre Sacasa's series aims to bring the classic characters from Archie Comics into the second decade of the new millennium. Along the way, Archie, Betty, Veronica, Jughead, and the gang (literally, there's a gang in this show) have picked up lots of baggage and even more diversity. A pair of chilling murder mysteries have set the stage for the dark and twisty drama of the one and half seasons that have aired so far, but the young cast of (mostly) newcomers are reason enough on their own to keep you tuning in every week. As much as one can go there on a nighttime teen soap, Lili Reinhart goes there when inhabiting her character's humorously dubbed alter ego "Dark Betty". Rounding out the property's iconic love triangle is the spectacularly dressed and quippy Camila Mendes in the role of Veronica Lodge. Then there's the show's intrepid emo narrator Jughead Jones, played by an all grown up Cole Sprouse whose brooding stare and tight-fitting tank tops will ruin The Suite Life of Zack and Cody for you. In short, Riverdale has it all: camp, sex, violence, humor, music, and, soon *fingers crossed*, a season 3 renewal.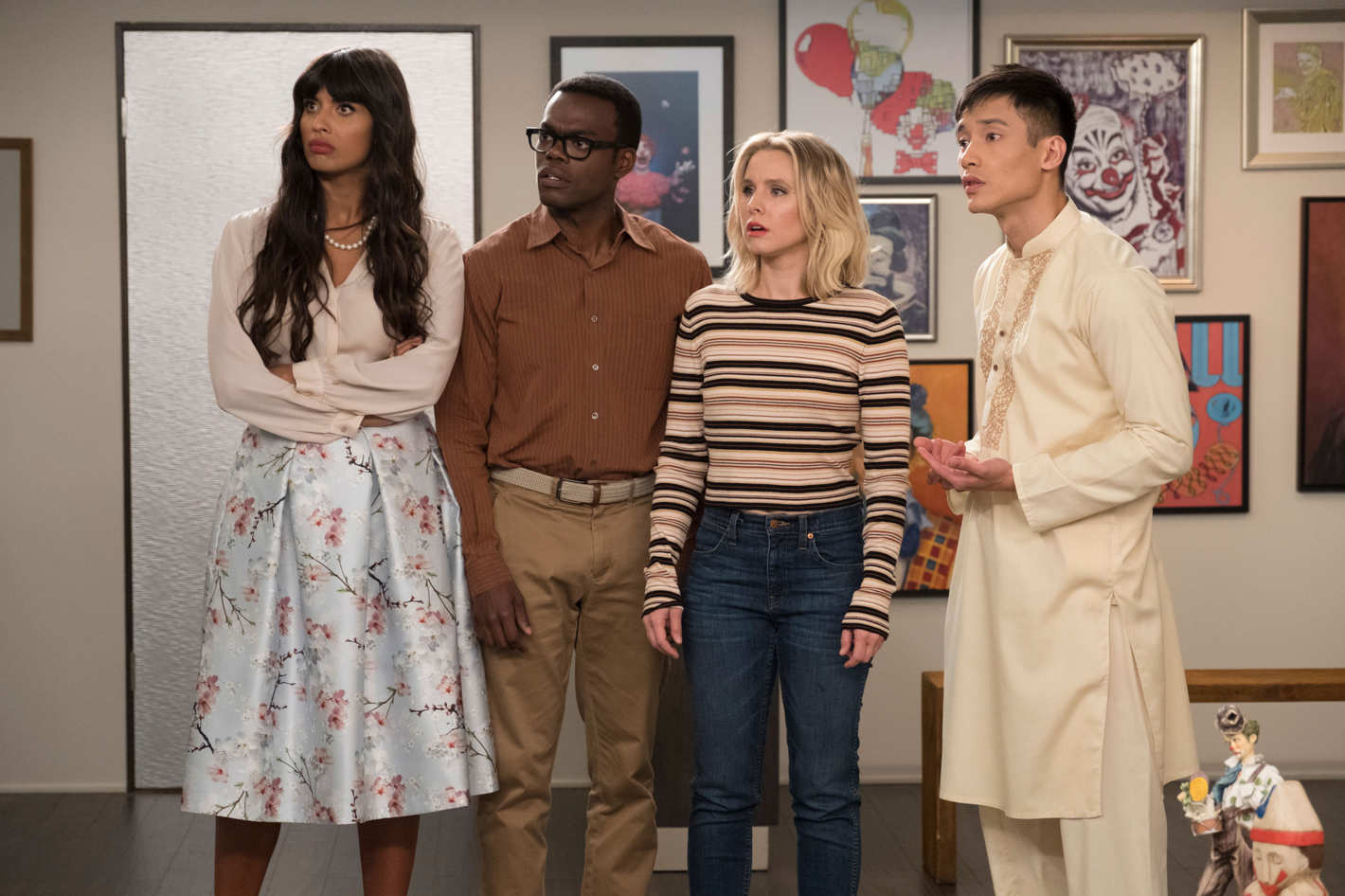 The Good Place
Nina: This was a particularly good year for TV, as you'll see in the nearly endless list of honorable mentions, but I felt I had to end with The Good Place, the latest from Mike Schur (creator of some of my all time favorites, like Brooklyn Nine-Nine and Parks & Recreation). The basic premise of this show – that when we die, we're sent to either the Good or Bad Place, but sometimes the algorithm can go awry – sounds like kind of a mess, but if you add an insanely talented cast, some of the funniest writing on TV, and a veteran like Ted Danson to that framework, magic can happen. Eleanor (Kristen Bell), Chidi (William Jackson Harper), Tahani (Jameela Jamil), and Jason (Manny Jacinto) are the modern-day cast of Sartre's No Exit, and there's not a slacker amongst this (extraordinarily diverse) cast – and don't forget about Janet (D'Arcy Carden), a "busty Alexa" who delivers some of the best deadpan work I've ever seen (and stuntwork, for that matter). The first season of the show was spectacular, but many, myself included, wondered how they could possibly sustain it; thanks to a mind-bending twist, which I won't ruin here, to close out the first season and a carefully plotted second go-around, The Good Place is better than ever, and is innovative storytelling at its finest.
Honorable Mentions: Big Little Lies, The Handmaid's Tale, Feud: Bette and Joan, Game of Thrones, Veep, Alias Grace, Master of None, GLOW, Friends from College, The Bold Type, Crashing, Divorce, Stranger Things 2, Crazy Ex-Girlfriend, Catastrophe, Insecure